PRICING & ORDER with GUARANTEE*
Genealogy research takes many, many hours and can be quite a journey! Beginning with just one person, you can sometimes go back dozens of generations. Depending on records available for each individual's particular family, research can get quite extensive or be very limited. A set I did last year went back 54 generations to 285 AD!! So you never know where the journey will take you or what you might uncover.

Because of this, it is difficult to have any strict pricing guidelines. I do not charge by the hour because it would end up being completely unaffordable. I do it for the love of the research so I have devised a method whereby we agree on a price up front ... usually $100 to start the preliminary research and that will give me a pretty good idea of how much data is available and will usually give information for 3 to 6 generations back (not counting you). For the initial $100 price, I will provide a Pedigree Chart and an Ancestor Report. At that point, you can decide how much further you want me to go and we will then determine a fair price for both of us.

For examples of recent histories I have done, click on the Portfolio button above.

Ready to get started? Click the link below to purchase the $100 preliminary package and I will get working on your family's story right away. You do not need to belong to Paypal to use this payment method, it is just where I have my account set up. Once your payment is made, you will be directed to a page where you can submit the initial information I will need to get started. Let's go!

Price $100 plus $10 postage

What is included in this package? Research to discover what is out there for your family and printouts of the Pedigree Chart and Ancestors Report for at least 3 generations and up to 6 generations. Also included is a DVD with all of the documentation and photographs found. At this point I should have a pretty good idea of how much more might be available and we can discuss going further.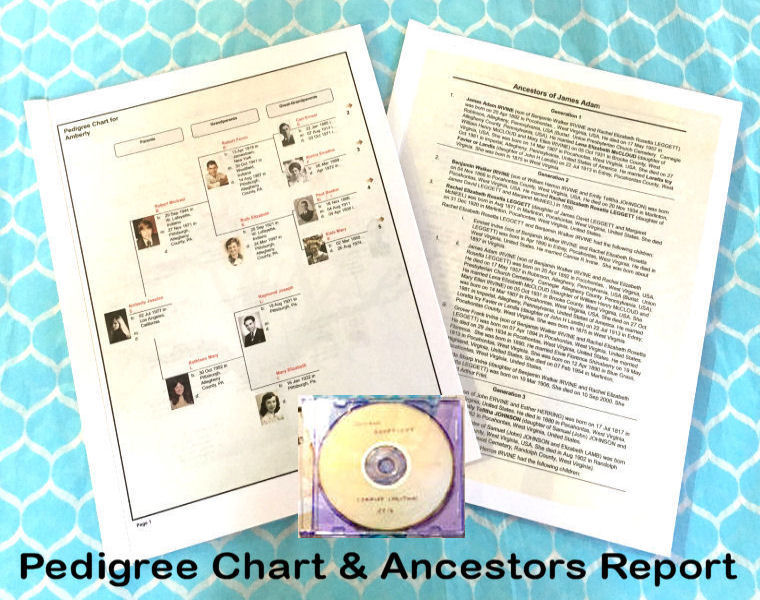 Questions? Feel free to click the Contact button above to email me or call. Thanks so much!
*My Guarantee: If I can't find at least 3 generations (not counting you or your parents), I will refund your money.